Registered Nurse, Mana Awhi – Older People's Health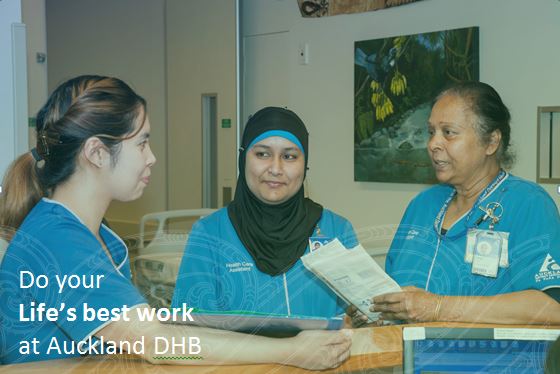 WE CAN RELOCATE YOU: may include 1-way airfare and a 'home-find' service
Support the health and hauora of our ageing population
Join our team which aims to improve experiences of our patients
Influence and help shape the future health system within Te Toka Tumai | Auckland ADHB.
Our organisation
He aha te mea nui o te ao? He tangata, he tangata, he tangata.
What is the most important thing in this world, I would say it is people, it is people, it is people.
Here at Te Toka Tumai | Auckland DHB, our kaimahi | staff are the key to our success, and we aim to have a workforce that reflects the communities we serve and our commitment to the Tiriti o Waitangi; this is important to us. It's important to our patients, community, whānau and families—seeing others with similar backgrounds ensures they know they can be their authentic selves when they connect with us at Te Toka Tumai and be supported.
In return for your contribution, you'll join a team that values the diversity of thought, backgrounds and experiences that we all uniquely bring and are an advocate for supporting hauora | well-being and see you action meaningful change within Te Toka Tumai.
Opportunity
Relocation to New Zealand is avaialble to all our overseas nurses. This normally consists of 1-way airfare to New Zealand, and assistance to find a place to stay even before you arrive in New Zealand! (Cost of living itself is for your own account though)
There's never been a better time to join us at Mana Awhi - Older People's Health. We are developing a dedicated hip fracture pathway that will be open in 2022. This will help to improve patient experiences and to support our ageing population within Aotearoa.
Our nurses, and kaimahi colleagues, are the heartbeat of our organisation. There are certain qualities in a nurse that you just can't teach. Its dedication to the role and care of our kaumātua, kuia and people.
For us, it's not just about treating patients; it's about the manaakitanga | care of our communities, providing and improving the quality of life for our whānau, families and communities to live independently, happier and healthier lives.
Important Skills
We need Nurses to help us support our people within Mana Awhi.
A commitment to biculturalism
A commitment to achieving equitable outcomes for Māori
Hold a RGN; RGON; RPN; RCpN with or without BN or BHSc (Nursing)
Hold a current NZ Nursing Council Annual Practicing Certificate
Knowledge and understanding of Te Tiriti o Waitangi and its application to improving health outcomes for whānau Māori
For further details, please refer to the position description here.
Why you will enjoy working here
At Te Toka Tumai, we'll do everything in our power to make sure you grow, develop and have a meaningful career. There are no limits to your potential here. Whether it's workplace safety or work/life balance, we understand there's no one-size-fits-all when it comes to hauora | well-being, which is why we have a range of initiatives to look after the varying needs of our kaimahi. In addition, we can offer the following:
Comprehensive induction and education programme to enhance your knowledge and skill with a focus on acute medical conditions commonly seen in our ageing patients with frailty
As New Zealand's largest teaching hospital, we can provide a range of development and training opportunities that align with your career aspirations and help you succeed in Mana Awhi
Pre- and post-operative care training of patients with a hip fracture
Relocation support to Auckland
Employee Assistance Programme - Confidential support year-round
For more information on what we offer, please click here.
We will support you with your visa requirements.
Apply now at www.careers.adhb.govt.nz quoting job title and reference number AUC14289. Please attach a Cover Letter and your latest CV.
If you have any queries about this opportunity or accessibility or technical issues with the online process, please contact Pieter Erasmus, Recruitment Consultant at perasmus@adhb.govt.nz. or Ph 09 638-0401 to discuss how we can best support your application.
For the biggest health sector job board in New Zealand visit www.kiwihealthjobs.com
Job details
| | |
| --- | --- |
| Reference | AUC14289 |
| Posted on | 02/06/2022 |
| Closes on | 03/07/2022 |
| Location | Auckland City Hospital |
| Expertise | Medical |
This position requires any worker to be vaccinated for vaccine preventable diseases including Covid-19
Pre-Employment Health Screening Read more
Related Jobs