Pathologist, Diagnostic Genetics, LabPlus, Auckland DHB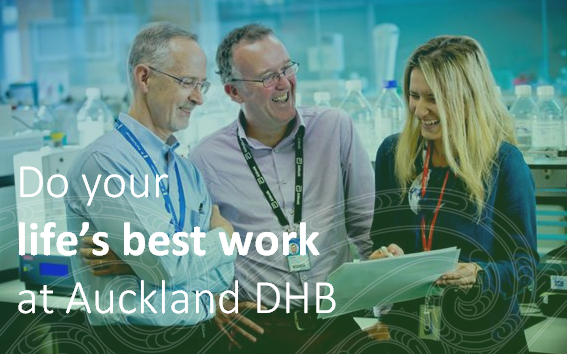 • New Zealand's leading provider of Pathology and Laboratory Medicine Services
• Full-time permanent role
• Opportunity to be part of the Auckland Academic Health Alliance; a partnership between Metropolitan Auckland District Health Boards and the University of Auckland
We are looking for a Genetic Pathologist to join our Diagnostic Genetics team. This is an excellent opportunity to work with NZ's largest and highly specialised hospital-based laboratory service and to be a part of a growing area of diagnostic testing and research. The Diagnostic Genetics has established links with the University of Auckland and there will be an opportunity to be involved in research and teaching.
The overall aim of this role is to enhance health outcomes for people in the Auckland region through clinical and laboratory practice, teaching, supervision, research, service and leadership.
Click here to view the position description
For further information please contact Dr Sally Roberts, Service Clinical Director on sallyrob@adhb.govt.nz
About us and what we can offer you
LabPLUS is an IANZ accredited laboratory and is a major referral medical laboratory in New Zealand for specialised laboratory tests providing tertiary and quaternary laboratory services to the greater Auckland and Northland region. Test referrals originate from hospitals, community laboratories and research units throughout New Zealand and the Pacific Islands. We are the leading laboratory provider for Diagnostic Genetics services in New Zealand.
LabPLUS provides pathology and laboratory medicine support for Auckland District Health Board hospital services provided from Auckland City Hospital, Starship Children's Hospital, National Women's Health, and the Greenlane Clinical Centre. Visit our website www.labplus.co.nz for more information.
Auckland DHB is the largest teaching hospital in New Zealand as well as the largest clinical research facility. The Auckland Academic Health Alliance formalises a research, teaching and clinical delivery relationship spanning almost five decades between the Auckland District Health Board and the University of Auckland.
There are approximately one million patient contacts each year including hospital and outpatient services. We can offer you opportunities for research and training with a great team environment and supportive work culture.
About the department
The Diagnostic Genetics laboratory provides a comprehensive service using cytogenetics, molecular haematology and molecular genetics techniques enabling us to resolve clinical diagnoses with a genetic component. We analyse pre and post-natal samples, provide predictive testing, and confirmation of a clinical diagnosis in the management of a spectrum of both malignant and inherited disorders.

Our portfolio of tests is constantly being upgraded with a view to reducing turnaround times and enhancing our tests to take into account new approaches and international clinical and research data.
About you
As the ideal candidate for this role you will have trained in Genetic Pathology and you will either have, or be eligible, for vocational registration with Medical Council of New Zealand as a Pathologist.
Please note, if you are not currently registered in New Zealand and have overseas medical qualifications, you will be required to provide source verification of your qualifications for your registration application. For more information about the registration process and source verification of qualifications, please visit www.mcnz.org.nz
To apply please click on the 'Apply' tab below and submit your application online attaching your updated CV and Covering Letter. For help with your application please email, Sonu Anand, Recruitment Consultant on Sonua@adhb.govt.nz quoting ref #ADHB7862A
Click here to view details about our recruitment process
For the largest health sector job board in New Zealand, visit www.kiwihealthjobs.com